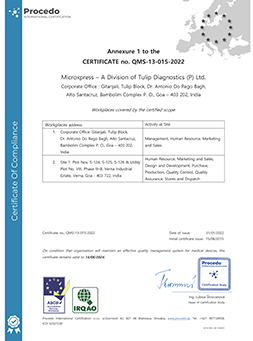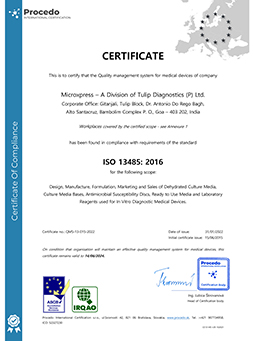 Microxpress® Division of Tulip Diagnostics (P) Ltd, a PerkinElmer® Company was established in the year 2001 with a focus on microbiology range of products.
We have gone from strength to strength over last two decades and established ourselves as a major player in the microbiology segment with an eye of delivering quality products with state of the art manufacturing facility, which conforms to GMP regulations. In an effort to build quality products we comply to Management System Standards as per ISO 13485.
Our mission is to offer quality products with value addition and influencing trends through innovative products.


Our Values

Customer Commitment:
We deliver on our promises and strive to create maximum value for our customers.
Quality:
We manufacture outstanding products that you can count on to perform, even under the most rigorous conditions.

Integrity:
We uphold and live by the highest standards of integrity.

Excellence:
We are committed to excellence and strive to constantly better our performance and surpass all expectations.

Innovation:
We firmly believe that excellence can only be achieved through innovation and continuous improvement.

Respect & Care:
We believe that every individual with whom we interact is deserving of the dignity of our respect.
Partnership:
We view our customers as our partners and believe that success can only be meaningful if it is mutual.
Quality Policy
---
To provide state of the art, high quality user friendly products and services at competitive prices that fully conform to the requirements of the customer and to statutory and regulatory requirements.
To design, develop and manufacture products in such a way that when used appropriately, under the specified conditions, they will consistently meet claimed specifications.
To achieve continual improvement in our product performance and services.
To understand the current and future customers needs and expectations by fully conforming to quality Management Systems.
To develop a motivated workforce, we strive for working in harmony with the environment.
Quality Objectives
---
Periodically analyzing customer feedback and regulatory requirements and up grading products, processes and services.
Adopting and implementing Quality Management System adhering to National and International standards.
Development of innovative and new products within a documented and controlled design and development environment.
Ensuring our products to meet their published specifications.
Establishing quality standards for suppliers and confirming that purchased products comply with requirements.
Reduce and eliminate the non-conformity in products by emphasizing, prevention over detection.
Providing employees the necessary training to execute their work in accordance with established Quality procedures.